One key aspect CIMULACT is taking up from the tradition of co-design is the extensive use of non-verbal communication to bridge the diversity of cultural and professional contexts, and create a truly open negotiation space.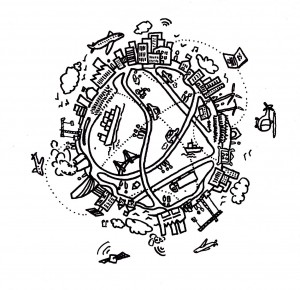 At each stage of the interaction process between citizens, stakeholders, experts and policy makers, emphasis will be made on non-verbal communication: citizens will be encourage to express their visions including images (made or selected by them); co-elaboration of overarching needs and scenarios will be supported by visualisations (prepared in advance and completed on the spot); engagement in the online consultation will be stimulated by visual material emerged from the off-line processes; finally, dissemination will be supported by visual synthesis (short movie clips in video or animated drawings). Within such a cross cultural process the use of visual material is highly important to complete the verbal communication. In particular:
Visual references allow to better focus what participants from different socio-cultural backgrounds are intending in the visions they proposed;
The visual elements don't suffer the possible alterations resulting from synthesis and translation;
In a large scale interaction process, visual material work as a facilitation allowing quick browsing and easier memorization from the participants;
An attractive look of images and graphics facilitates engagement of participants and stimulate creative thinking;
In presence of different socio-professional groups (i.e. experts and lay people; scientists and policy makers) the use of visualisations facilitate knowledge brokering.