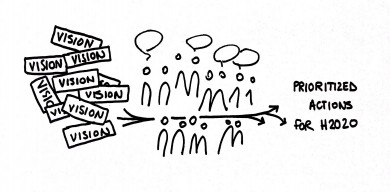 Engaging more than 1000 citizens to build visions for Europe
From November 2015 until early January 2016 national citizen vision workshops will be held in 30 European countries to generate citizens' visions for desirable and sustainable futures. Read this piece on our method if you want to know how we do and find more information on our project approach and work plan.
Inspirational material
We produced an inspirational magazine for the vision workshops. It gives participating citizens a glimpse of what a vision is, of how one can think about the future, and aims to inspire them to formulate own dreams, wishes and desires for the future. Read it here.
Coming up…

National citizen vision workshops in 30 countries from November 2015 until January 2016. Find the dates here.

What is a vision?

In CIMULACT, a vision describes what the future should be like. It does not necessarily have to be feasible from today's point of view. Visions invite us to consider the future as something that we can shape, rather than as something already decided upon.

Who we are

The CIMULACT consortium is made up by 29 European members from different organisations working in the fields of technology assessment, science dissemination, innovation, research and consulting. It is coordinated by the Danish Board of Technology Foundation.

In the end of September, all partners met for four days of kick-off in Copenhagen and had an inspiring interactive training, exploring the method we use in the vision workshops.